NEWS
Laurie Cannister is Back. Really Back!
By Jack Smith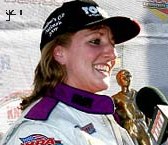 Laurie Cannister, after a five year absence, found the Winner's Circle for the first time since 2002, taking home the Alcohol Funny Car championship with a win over Mark Thomas at Maryland International Raceway this past weekend. Cannister ran a 5.780 at 245.49 mph to capture the win.

Cannister returned to the scene of her last win, that coming in 2002, now back driving for Kevin and Wendy Sims in the IHRA. "It's been exactly 5 years since I have won anything, it was really cool to go back there again, and actually the fifth time I have been there and we have won four of the five times," Laurie said.

Kevin and Wendy Sims purchased Cannister's car when she retired in 2002. The couple recently decided to go back to drag racing and three weeks ago called Laurie. "They remembered that when I left the car in their driveway, I said if you ever need somebody to drive this car, please call me, and that's how it happened."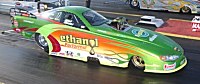 Cannister and the team were hoping just to qualify for the event, but exceeded all their expectations, Laurie, a recent guest on Real Racin' USA said "to actually go out and run four passes in the seventies and then to win the event, it was just unbelievable."

Cannister also announced that with the assistance of the Sims and Mark Adelizzi of Flatout Gaskets, the team will run the entire IHRA 2008 season. "I have a whole new crew, it seemed to work out pretty well this past weekend, and my dad is even going to come back and help us out. He's been dying to get back out there just as much as we have."

Cannister's husband debuted as a tuner at MIR and obviously was highly successful, Laurie gave much credit to her other half, "It was his chance to shine, and he certainly was shining this past weekend, it was incredible what he did and what he made that car do for me, it was flawless, it was very incredible."

Steve LeTempt, host of the Straightlining with Stevie show on Real Racin' USA, asks Laurie about the actual racing and she goes into the details and describes what it's like to take a Alcohol Funny Car down the track, the mental preparation and concentration need to be successful.

"Going down the race track you're just concentrating on hitting your shifts, when the light comes on, keeping your eyes to the very end of the race track, which is what makes you drive straight down the groove", Cannister explained.

"You really have to concentrate in these cars, because they can definitely can hurt you, you have to respect them and you have to really pay attention to what you are doing" she said. "I try to do the best I can, because I have always been determined to be not hear anyone say I don't belong there.

In 2008 we doubt anyone will be saying that in the IHRA drag racing series anytime soon.

To listen to the full interview with Laurie Cannister, use this link to download the mp3 file: LAURIE CANNISTER INTERVIEW Oct 3, 2007

STRAIGHTLINING WITH STEVIE CAN BE HEARD EACH WEDNESDAY AT 8 PM ONwww.REALRACINUSA.com
---