NEWS
CANNON SET TO MAKE ROCKINGHAM TOP FUEL DEBUT
Returns to Track of First Career National Event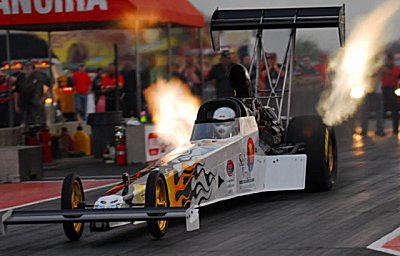 ROCKINGHAM, N.C. (April 12, 2007) – Scotty Cannon made his career national event debut two decades ago at Rockingham Dragway. At the time he was a relatively unknown bracket racer, but wheeled an impressive pass in his mountain-motored 1941 Willys – a 7.77 elapsed time at 177 miles per hour.

Cannon, now an iconic name in drag racing after a long career in Pro Modified and Nitro Funny Car, returns to Rockingham Dragway. This time he'll be racing Top Fuel, in one of the dozen 320 mph dragsters competing during the Spring Nationals presented by Advance Auto Parts and Castrol, scheduled April 20-22. (Buy Tickets Now: http://www.ihra.com/results/2007/nitrojam.html).

Also competing at the event will be Cannon's son, Scott Cannon Jr., racing in the Pro Modified class. Cannon Jr. won the World Finals at Rockingham last season to claim his first national event win.

Cannon Sr., a former six-time world champion, is off to a thundering start with a semi-final finish behind the wheel of Evan Knoll's Seelye-Wright-sponsored Top Fuel dragster two weeks ago in San Antonio, Texas. He enters Rockingham fourth in the point standings.

"It's always a treat to race in Rockingham," Cannon, 44, of Lyman, South Carolina said. "I consider this to be my hometown race on the IHRA side and with it I have a lot of memories. When I first started drag racing, one of the places you always dreamed of racing at was Rockingham. This is going to be exciting."

Cannon has a lot to be excited about with his rapid progression to the upper echelon of the Knoll-Gas Nitro Jam™ Drag Racing Series' premier professional division. His 4.851, 299.00 put him atop the eight-car field in his first official Top Fuel run.

Racing operations were reduced the next day to an eighth-mile course and Cannon's low qualifying effort was reduced to a No. 2 seeding. Cannon, a veteran of racing on smaller eighth-mile venues, took the unavoidable situation in stride but not without injecting humor into the mix.

"I could have stayed at home and raced eighth-mile," Cannon said. "They had a track condition and by doing that made it safer. I liked eighth-mile until it took away my first low qualifier in seven years. I got bumped to number two because the sun came up."

Cannon concluded qualifying as the fourth quickest and defeated Bobby Lagana, Jr., in the first round before untimely breakage caused him to miss the call in the semis.

"We just ran out of time," Cannon said. "It wasn't for lack of effort. We had a problem with oil pressure during the warm-up and we chased every potential problem we suspected. By the time we found it and started to roll to the lines, our opponent was firing for the burnout.

"It was frustrating but racing is a business. Going out to race when you know you're going to hurt something just doesn't make sense. It's just the right thing to do. There will be other races … 11 more … and I'm sure we will have other opportunities.

Cannon is sponsored by Evan Knoll's Torco Race Fuels and Seelye-Wright Automotive Group.

The Seelye – Wright name carries every American manufacturer from General Motors to Ford to Mopar. They also have a prosperous Kia dealership and plan to add the Hyundai brand soon. Wright has been in business for over 25 years. Knoll became a partner in the thriving business last year.

For more information, visit http://www.seelyewright.com/ or Torco Race Fuels at www.torco.com.

For more information on the Spring Nationals, please log onto www.ihra.com or www.rockinghamdragway.com. Media requests can be sent to Travis Reynolds at (419) 706-8631 or travisreynolds@livenation.com.

About IHRA

Headquartered in Norwalk, Ohio, the International Hot Rod Association (IHRA), a division of Live Nation, promotes professional, semi-professional and local level racing opportunities for drivers at all levels. The $19.5 million Knoll-Gas Nitro Jam™ Drag Racing Series is a 12-event North American professional drag racing circuit. In 2007, the series will be comprised of nine events in major cities throughout the United States and three in Canada. The Summit Racing Equipment Pro-Am Championship presented by Mr. Gasket consists of competition at national events and 40 events in six regional divisions, while IHRA's Summit SuperSeries is conducted nearly every weekend at over 70 IHRA-sanctioned tracks. Providing a safe environment to develop future stars, IHRA offers the Junior Dragster Racing Series for youths ages 8-17. Stand-alone events include Live Nation's entertainment-filled "Thunder Jam" shows and the street legal racing and lifestyle event series Kumho Street Warriorz presented by Hooters. More information can be found at www.ihra.com.


About Live Nation
Live Nation is the world's leading live music company, annually connecting more than 67 million fans with their favorite performers at over 33,000 events. We are the largest producer of live concerts in the world, the second-largest venue management company and have a rapidly growing online presence. Live Nation creates superior experiences for artists and fans, regularly producing tours for the biggest superstars in the business, including The Rolling Stones, Barbra Streisand, Madonna, U2 and Coldplay. Globally, we own, operate and/or have booking rights for more than 170 venues, including House of Blues-branded music venues and prestigious locations such as San Francisco's Fillmore Auditorium, Nikon at Jones Beach in New York and London's Hammersmith Apollo and Wembley Arena. Live Nation's websites collectively are the second most popular entertainment event websites in the United States, according to Nielsen//NetRatings. Headquartered in Los Angeles, California, Live Nation is listed on the New York Stock Exchange, trading under the symbol "LYV." For more information regarding concerts near you, Live Nation and its businesses, please visit our website at www.LiveNation.com.


---