NEWS
Litton Defeats Todd to Take Top Fuel Points Lead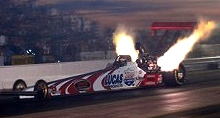 MARTIN, Mich. (August 6, 2007) – Bruce Litton defeated J.R. Todd in the Top Fuel final of the Torco Racing Fuels Northern Nationals. Litton, of Indianapolis, covered the quarter-mile in 4.707 seconds, 287.72 mph, to take the win and the Knoll Gas Nitro Jam points lead.

Other professional winners include Mike Ashley (Nitro Funny Car), Jason Hamstra (Pro Modified), Paul Noakes (Alcohol Funny Car) and Frank Gugliotta (Pro Stock).

Litton, who entered the Northern Nationals second place in the point standings behind T.J. Zizzo, qualified No. 5 and took out No. 1 qualifier Doug Foley in round one. Todd, a regular competitor on the NHRA circuit, took out Zizzo in the first round, therefore giving Litton the opportunity he needed, if he could make it to the finals.

Litton's second round opponent was Melanie Troxel. Litton used a holeshot victory to defeat her, 0.058 reaction time to Troxel's 0.082. He then advanced to the finals against Todd, who dispatched Bobby Lagana Jr. in his semi-final match.

Litton, a veteran Top Fuel competitor, was the one who years ago gave Todd his first shot in a dragster. After racing under Litton, he sat out a few years and returned to competition on the NHRA circuit, winning two events in 2006 and "Rookie of the Year" honors.

But in the final round at Knoll Gas Motorsports Park at US 131, it was all Litton. Todd smoked the tires 60-feet down the track and Litton never looked back, making a perfect pass to the finish line and his second win of the season. He now leads Zizzo by 21 points.

After the race Litton wanted to praise Todd for how far he has come.

"I am so proud of J.R.," Litton said. "He has a lot of heart and desire and has turned that heart and desire into becoming a champion. I am so proud of him and his whole family."

However, once the cars pulled up to the starting line the friendship was put on hold…at least for about five seconds.

"J.R. is really good and his record shows it," Litton said. "But we were here to win. J.R. is a good leaver and I knew I would have to be on top of my game if I wanted to get out of here with a win."

Ashley, Melville, N.Y., had dominated the Knoll Gas Torco Racing Fuels Pro Nitro Funny Car class all weekend, qualifying No. 1 and holding the low elapsed time and speed marks for the weekend, 4.812, 316.23. He took out Gary Densham in the first round and advanced to the finals when Jack Wyatt couldn't make the call during the semi-finals.

On the other side of the ladder, Mitch King dispatched Bob Gilbertson in round one and current points leader Dale Creasy Jr. in round two. In the finals, King's car backfired on the burnout, giving Ashley a single to win the race. Ironically, had King been able to make the pass, he might have won as Ashley smoked the tires at 300-feet.

"We rolled out a brand new car for this deal," Ashley said. "Every nut and bolt, every piece of the car was brand new except for the body. On the first lap we had eight cylinders, then for the rest of the weekend we couldn't find the other cylinder. #1 kept going out and we were running seven cylinders the rest of the weekend. In the final round we changed the fuel blower system, put on the one from our other car and it just had too much power for the final."

As in Nitro Funny Car, the Torco's CompetitionPlus.com Pro Modified final ended up being a single-pass. Hamstra, the 20 year-old from Demotte, Ind., and Matt Hagan completed their burnouts, but Hagan's car wouldn't go into reverse to get back to the line. After his crew pushed him back, the car couldn't stage. Hamstra still made a nice pass, 6.176, 229.55 to take his first career win.

"I really wish we could have ran Matt in the final round," Hamstra said. "He's a great racer and a great competitor, but the starter waved me in so I had to go. We ran a good number anyway so we'll take it."

Hamstra and Hagan had tough routes to the final. Hamstra took out Carl Spiering and points leader Scott Cannon Jr. Hagan went through former world champion Mike Janis and Ed Hoover.

In Alcohol Funny Car, Noakes' win made it two in a row against fellow Ontario-native Rob Atchison. He defeated the former three-time world champion two weeks ago during the Mopar Canadian Nationals.

Noakes took out Scott Wildgust in round one, then Terry Munroe in the second. On the other side, Atchison defeated a tough first round opponent in Mark Thomas, then Terry McMillen to advance to the final.

They were close off the starting line, but Noakes outran Atchison and crossed the stripe first, with a 5.875 elapsed time to Atchison's 5.906.

"We're probably going to get a lot of other Alcohol Funny Cars complaining about the Canadian Funny Cars," Noakes said. "I'm sure they're starting to stir up the Internet sites already. Rob really helped me out last year and I love racing him in the final. Actually I love racing him anywhere because we're close friends and I'm sure we'd like to race each other in the final every race."

In Torco's CompetitionPlus.com Pro Stock, Gugliotta, Mt. Airy, Md., defeated John Nobile in round one, then took out John Montecalvo to advance to the semi-finals. Gugliotta won that round over a red-lighting Steve Spiess.

On the other side of the ladder, Larry O'Brien beat defending world champion Pete Berner in the first round, then Dean Goforth and Robert Patrick. But in the final, it was all Gugliotta. He had the better reaction time and quicker ET – 6.423 to 6.473.

"I really am excited to get this win; it was my first win with Rick and Bonnie Jones," Gugliotta said of his car owner Rick Jones and his wife Bonnie. "It was a great race and a great weekend."

The next event on the $19.5 million Knoll Gas Nitro Jam Drag Racing Series is the Amalie Oil North American Nationals presented by New England Dodge Dealers, August 10-12, at New England Dragway. For more information, log onto www.ihra.com.

---