NEWS
NHRA founder Wally Parks Passes
Buddy Shacklette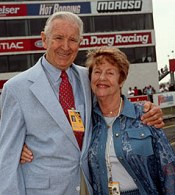 Wally Parks, one of the men that helped make drag racing what it is today, has died at age 94.Parks, who had an unabashed vision to make side-by-side racing safer in a more controlled environment, was one of the founders of the sport in its infancy.

"Today is a sad day in the world of NHRA and the sport of drag racing," said Tom Compton, president of NHRA. "Words simply can't describe the immeasurable impact Wally has had on the sport he created and the millions of people's lives he touched along the way.

The name Wally Parks is synonymous with drag racing, and his vision and direction will guide NHRA for years to come. Everyone in drag racing, and the industries formed to service the sport, will forever be indebted to Wally, his vision, his focus and his desire to create, build and grow NHRA.

"Parks founded NHRA in 1951, received countless awards in the motorsports world and played a pivotal role in the establishment of the sport.

He served on the NHRA's board of directors and there is a Wally Parks NHRA Motorsports Museum presented by Automobile Club of Southern California at Fairplex in Pomona, Calif.

Over the last decade Parks was presented the prestigious Blaine Johnson Award for his dedication, perseverance and nurturing commitment to the sport and in 2002 he was again recognized for his many contributions to the sport of drag racing when he was presented with the inaugural Robert E. Petersen Lifetime Achievement Award.

In late 2003 he was named the Dean Batchelor Lifetime Achievement Award winner by the Motor Press Guild in Los Angeles.
---