NEWS
Ashley Holds Nitro Funny Car Pole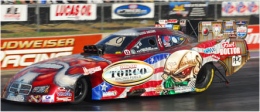 Mike Ashley is happy to be back running in IHRA competition. The former Pro Modified driver, who finished second in the world during the 1990 season before moving on to compete in the Nitro Funny Car class in NHRA competition, crossed over back into Nitro Jam competition to run at Knoll Gas Motorsports Park in the Torco racing Fuels Northern Nationals.

By setting the ET track record and clocking a 4.812 pass at 316.23 mph Ashley, a Mellville, N.Y. resident, claimed No. 1 qualifier honors and will square off with Gary Densham in the first round of eliminations Sunday.

"That wasn't the prettiest run, but we got out of here with the No. 1 Qualifier," Ashley said after a shaky 5.03 pass in the Saturday evening session. "I came home to IHRA this weekend and we're having a great time. This crowd was amazing, the atmosphere was great and this facility is awesome…this team is having a lot of fun."

Bob Gilbertson (Charlotte, N.C.) finished second on the qualifying sheet with a 4.860 pass at 289.07 mph. He will face Mitch King in the first round of eliminations Sunday. Terry Haddock (4.991) and Dale Creasy Jr. (5.041) rounded out the top half of the Nitro Funny Car ladder.

Doug Foley (Sewell, N.J.) paced the quickest Knoll Gas Torco Racing Fuels Pro Nitro Top Fuel field in IHRA history with a track record 4.559 pass at 323.19 mph. Bobby Lagana (Scarsdale, N.Y.) ended up on the bump spot with a 4.725 to top the 2005 Rockingham World Finals for the quickest field in IHRA history.

After his record-setting run Foley's chutes came out late and he ended up nosing into the sand trap at the end of the track.

"Putting it in the sand, I haven't done that in a long time so it was pretty exciting," Foley said. "My Crew Chief Doug Kuch is one of the smartest people in drag racing and he gave me a great car. But it was the entire team, it takes all 15 guys to make me look good."

The Saturday night Top Fuel qualifying session also featured the quickest side-by-side Top Fuel pass in track history when J.R. Todd and Clay Millican both ran in the 4.50s. Todd ran a 4.584 in the right lane while Millican posted a 4.598 in the left.

Mike Janis claimed both ends of the track record and captured Saturday "Last Man Standing" honors with his 6.033 pass at 240.42 mph Saturday evening. Janis drove his '07 Cobalt to nose out Scott Cannon, who clocked a 6.084 at 232.87 in his '68 Firebird to finish No. 2 on the qualifying sheet.

"The 240 was really a big deal to us," Janis said of his track record speed. "We've been in the 237 and 239 range before but this was the first time we've gone 240. The motor is still together so we're happy with it."

Kenny Lang ended up qualifying sixth, but he left the track Saturday a little richer. He was able to claim the Torco's CompetionPlus.com Pro Modified Shootout title by knocking off Jim Halsey in the final. Halsey could not get his nitrous-powered '68 Camaro fired for the final round of the Shootout.

"This will definitely help us out," Lang said of the $20,000 prize. "All year we've been trying to go fast and go some rounds so this is going to help out program. It's too bad Jim had a bad break there in the final but we feel like we would have given him a run for his money if he would have been able to make the round. This was huge. This was the biggest race we've ever won so we're thrilled."

The top five qualifiers in the Torco's CompetitionPlus.com Pro Stock class should not surprise anyone…they are the same top five in world championship points standings. Frank Gugliotta, currently No. 5 in the world, ended up in the No. 1 spot Saturday with a 6.386 pass at 220.22 mph while defending world champion and current No. 2 in the world Pete Berner finished at the No. 2 qualifier at an identical 6.386 at a slower 218.51 mph.

Current points leader Robert Patrick ended up fourth on the Pro Stock qualifying ladder while Steve Spiess (No. 3) and John Montecalvo (No. 5) rounded out the top five.

Mark Thomas, who had been to four final rounds in five 2007 events heading into the Torco Northern Nationals. He claimed his fifth No. 1 qualifying position of the season Saturday night when he went from stripe-to-stripe in 5.815 at 245.85 mph. Thomas will face his close friend and fiercest rival Rob Atchison in the first round of eliminations Sunday. Paul Noakes, who won two weeks ago in Grand Bend, ended up second on the sheet and will race Scott Wildgust in Round 1 Sunday.

Professional eliminations are scheduled for Sunday at 10:30 p.m., 12 noon, 2 p.m. and 4 p.m. For more information, log onto www.ihra.com. The Torco Racing Fuels Northern Nationals is the sixth of eleven events on the $19.5 million 2007 Knoll Gas Nitro Jam Drag Racing Series.

---