NEWS
| | |
| --- | --- |
| Thursday, October 4, 2007 | |
Clay Millican Shows up At MIR, And Finds Success
IHRA Media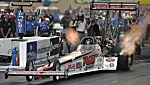 There was a familiar face back in the Winner's Circle at Maryland International Raceway. Six-time IHRA Top Fuel world champion Clay Millican, who raced a full schedule on the NHRA tour this season, came to Maryland International Raceway to defend last season's event championship.

He succeeded, knocking off current points leader T.J. Zizzo in the final round to claim his 51st career national event Ironman.

It was Millican's first career national event victory with new Crew Chief Johnny West, and he had to earn it. Zizzo, in a close race for the IHRA world championship, threw everything he had at Millican, posting a 4.685 at 321.73 mph. Millican was able to edge him with a 4.576 at 325.85.a pass that backed up his provisional record run of 328.14 set during Friday qualifying.

"That was unbelievable," Millican said after the final. "We expected them to come out swinging, but never in my life did I expect them to throw out a 6.68 at 321. That was a great final round and I'm really proud of T.J. and his entire team. They had a big weekend, too."


Mitch King had the biggest weekend of his racing career, claiming his first-ever Nitro Funny Car victory by stopping Jack Wyatt in the final round. King clocked a 5.133 at 289.45 mph to stop Wyatt, who smoked his tires at the hit of the throttle.

"We have worked so hard and paid a lot of dues," King said. "I can't say enough about my guys. All year we've been running a Top Fuel car and a Nitro Funny Car. My guys have gone without eating, without sleeping, without a lot of things and they've never complained. I know, at every race, I have the hardest-working crew on the property."

Mike Janis (Lancaster, N.Y.) continued his recent hot streak, claiming the Pro Modified Ironman with a final-round victory over John Russo. Janis posted a 6.025 at 241.63 to turn on the win light over Russo's 6.127/241.24 pass.

Janis pulled within a couple of rounds of Scott Cannon at the top of the national points list, but failed to go to the Edmonton race and will not receive the 41-point bonus for attending each IHRA Knoll Gas Nitro Jam event. Cannon will qualify for the 41 points when he stages his car in Rockingham.

"We can't worry about that, we just have to try to get every point we can get," Janis said. "What's in the past is in the past and we're going to see what we can do in Rockingham. This was a great race and we've really figured some things out lately."

Pete Berner (Crete, Ill.) won his 18th career Ironman with a Pro Stock final victory over Dean Goforth. Berner claimed the win with a 6.307 at 222.40 to knock off Goforth's 6.357/223.69.

"This was an amazing weekend and I'm very proud of what IHRA was able to do out here," Berner said. "I'll be honest, we were thinking about possibly going over to run on the other side but when you run IHRA it's like running with family. We hug each other when we win or lose and I just don't want to leave that."

Laurie Cannister found the Winner's Circle for the first time since 2002, taking home the Alcohol Funny Car championship with a win over Mark Thomas. Cannister clocked a 5.780 at 245.49 to get the win, driving for Kevin and Wendy Sims. After the race she had an announcement about her future.

"The car owners called me a couple of weeks ago and asked me if I wanted to drive in the last couple of events to see what would happen," Cannister said. "That was the call I have been waiting a long time for. Now they asked me if I would drive the car next year, so we're going to be driving a full IHRA schedule next season. I'm really excited about that and thrilled I was able to get the win here."

The next event on the $19.5 million Knoll Gas Nitro Jam Drag Racing Series is the IHRA World Finals presented by the United States Air Force, Oct. 19-21, at historic Rockingham Dragway.

BUDDS CREEK, Md. -- Sunday's final results from the Torco Race Fuels President's Cup Nationals at Maryland International Raceway. The race is the tenth of 11 in the $19.5 million 2007 Knoll-Gas Nitro Jam Drag Racing Series:

Top Fuel -- Clay Millican, 4.576 seconds, 325.85 mph def. T.J. Zizzo, 4.685 seconds, 321.73 mph.

Nitro Funny Car -- Mitch King, Chevy Corvette, 5.133, 289.45 def. Jack Wyatt, Dodge Stratus, broke.

Pro Modified -- Mike Janis, Chevy Cobalt, 6.025, 241.63 def. John Russo, Chevy Camaro, 6.127, 241.24.

Alcohol Funny Car -- Laurie Cannister, Chevy Camaro, 5.780, 245.49 def. Mark Thomas, Chevy Monte Carlo, 5.845, 245.09.

Pro Stock -- Pete Berner, Pontiac GTO, 6.307, 222.40 def. Dean Goforth, GTO, 6.357, 223.69.

Pro Stock Showdown -- John Nobile, Ford Mustang, 6.304, 221.49 def. Frank Gugliotta, Chevy Cobalt, 6.320, 222.51.

Top Dragster -- Jimmy Jones, Dragster, 7.691, 146.86 def. Aldan Miller, Dragster, 7.699, 131.96.

Top Sportsman -- Mike Kaufman, Chevy Corvette, 6.996, 197.45 def. Sandy Wilkins, Chevy Cavalier, 7.056, 193.29.

Quick Rod -- Tony Helms, Dragster, 8.900, 171.73 def. Rusty Cook, Dragster, 8.885, 177.51.

Super Rod -- Joseph Cepelka, Dodge Charger, 9.901, 138.17 def. Peabody Harrell, Chevy Roadster, 9.929, 147.20.

Hot Rod -- Robert Holloway, Chevy Camaro, 10.883, 127.25 def. Joseph Chiaramonte, Plymouth Barracuda, 10.872, 127.63.

Super Stock -- Bob Phillips, Chrysler Lebaron, 10.670, 123.93 def. Scotty Stillings, Pontiac Grand Am, broke.

Stock -- Craig Marshall, Dodge Dart, 10.668, 119.72 def. Brandon Peterson, Ford Mustang, 11.507, 115.14.

Summit SuperSeries Box -- Thomas Plott, Dragster, 4.679, 146.11 def. Kent Sessoms, Chevy Camaro, 5.590, 122.33.

Summit SuperSeries No Box -- Ed Talbert, Chevy Chevelle, 7.559, 85.11 def. Derek Harris, Chevy Nova, 7.188, 92.40.
---