NEWS
SHIGEMATSU EARNS SECOND WIN IN AHDRA
Horne Becomes Just Third Different Winner in Destroyer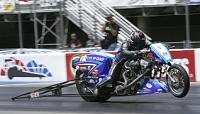 Tak Shigematsu officially has a winning streak going at Bristol Dragway. The Japanese native not only won his second consecutive AHDRA Nitro Top Fuel event on Sunday, he did it with style.

The right handlebar on Shigematsu's Harley-Davidson broke during the final round run down the quarter-mile strip, forcing him to control the blazing motorcycle with just one hand.

It worked. Shigematsu beat Jack Romine with a 7.685-second pass at 173.49 mph to beat Romine's 10.812 at 91.40.

It was also Shigematsu's second victory of the year, and first since he took the trophy at Commerce, Ga. Due to a rainout and the annual summer break taken by AHDRA competition, it was the first time winners were crowned at a points race since the June 10 event at Norwalk, Ohio.

Shigematsu earned the No. 1 qualifier position with a 6.513, followed by Mike Romine (6.555) and Doug Vancil (6.5873) in second and third, respectively.

For just the second time this season, L.E. Tonglet wasn't in the winner's circle for the Destroyer category. While the New Orleans native has earned five of the seven event wins so far this season, he lost in the first round to Brian Fox.

Douglas Horne went on to beat Nick Gonatas Jr. in the final round, earning the win. Only Horne and Fox have claimed wins besides Tonglet this season.

Horne rode his Harley-Davidson Destroyer to victory with a 9.559 at 139.75, topping Gonatas' 9.616 at 137.02.

Valeria Thompson kept Tonglet from continuing his streak of top qualifying awards too. Tonglet has six No. 1 qualifiers this season but Thompson took the honors in Bristol. She turned in a best qualifying run of 9.515, while Julia Holliday was second (9.524) and Tonglet was third (9.558).

Greg Best was the winner of the Screamin' Eagle Performance (SEP) for the third time this season. Best beat Pete Crowe – a first-time finalist this season – with an 11.548 at 109.12. Crowe recorded an 11.485 at 112.68.

Joey Talbott was the No. 1 qualifier in SEP action with an 11.505, followed by Robert Muller's 11.513 and Curtis Talbott's 11.519. Crowe was seventh in qualifying while Best qualified 13th.

Donnie Huffman earned his second consecutive win of the season in ET racing by beating Mike Best in the final round. Huffman's 11.640 was good enough to beat Best's 14.082.

The next AHDRA event is the Team Latus Motors Harley-Davidson Northwest Nationals in Woodburn, Ore., Aug. 25-26.
---