NEWS
GAHM BREAKS DOWN 6.20 BARRIER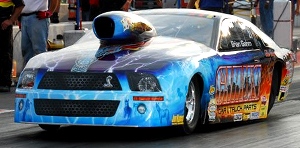 Brian Gahm, of Lucasville, Ohio, has made a habit of doing things first. He became the charter member of the Quarter-Max 6.40s club during the 2004 racing season. He then, after that club was filled up, was the first Pro Stock driver to run in the 6.30s to become the initial member of the Lenco Transmissions 6.30s club.

Friday, at Grand Bend Motorplex during the Mopar Canadian Nationals presented by Castrol, the fifth event of the 2007 Knoll Gas Nitro Jam™ Drag Racing Series, Gahm did it again. His 6.299 pass at 220.66 mph was the quickest Pro Stock pass in recorded history and made Gahm the first member of the Jerry Haas Race Cars 6.20s Club.

"I like getting some of my money back from Haas," Gahm, who drives a Jerry Haas-built 2007 Mustang with Jon Kaase power. "This is a brand new race car and it doesn't get any better than that. I'm tickled to death. We contemplated what to do with the transmission and Cliff made the right call. He said tonight would have the best conditions of the weekend and we went for it."

As he approached the end of the track Gahm wondered if his car was going to stay together.

"When I hit the high gear the thing was flat carrying the mail," he said. "When I got to the high side it was banging around and I thought the engine was coming apart. When they first told me I thought I heard them say a 6.39 because it was banging around so much. We were shooting for a 6.32 and would have been happy with that, but everything came together with the weather and it was a heck of a run."

T.J. Zizzo slid into the provisional top qualifier spot in Knoll Gas Torco Racing Fuels Pro Nitro Top Fuel with his 4.662 pass at 314.83 mph.

"I tell you what, we had to change a few things in Edmonton a couple of weeks ago and finished as the No. 1 qualifier," Zizzo said. "We made a few more small changes for this race and things are working out so far. I have such a great crew that always puts me in position to do the best I can."

Dale Creasy Jr. (Beecher, Ill.) claimed the provisional Knoll Gas Torco Racing Fuels Pro Nitro Funny Car top qualifying spot with a 5.062 pass at 300.73 mph.

"We were getting a little nervous because it looked like the Funny Cars were having problems getting down the track," Creasy said. "But we were able to put a clean pass together. We'll be back at it tomorrow."

Scott Cannon Jr. (Lyman, S.C.) broke down a barrier as well during Torco's CompetitionPlus.com Pro Modified qualifying. Cannon ran a career best 5.997 at 237.92 mph to claim both ends of the Grand Bend Motorplex track record and grab the provisional pole.

"My dad and I thought about it all day, thinking if we were going to back it down," Cannon said. "We finally decided not to because the air was so good and you see what happened."

Mark Thomas (Louisville, Ohio) has been to the Alcohol Funny Car final at each of the first four Nitro Jam national events this season. He qualified Friday like he intends on making it five-for-five, blistering the quarter-mile in 5.838 at 241.76 mph to end up on the provisional pole heading into Saturday.

Racing resumes Saturday at 9 a.m., with professional qualifying rounds at 1 and 7 p.m. For more information, log onto www.ihra.com. The Mopar Canadian Nationals presented by Castrol is the fifth of eleven events on the $19.5 million 2007 Knoll Gas Nitro Jam Drag Racing Series.


GRAND BEND, Ontario -- Results Friday after qualifying for the Mopar Canadian Nationals presented by Castrol at Grand Bend Motorplex, sixth of 11 events in the $19.5 million 2007 Knoll Gas Nitro Jam Drag Racing Series. Qualifying will continue Saturday for Sunday's final eliminations.

Top Fuel --

1. T.J. Zizzo, 4.662 seconds, 314.83 mph
2. Scotty Cannon, 4.768, 301.07
3. Jim Cavalieri, 4.874, 282.60
4. Mitch King, 5.945, 150.36
5. Grant Flowers, 8.718, 91.24
6. Bruce Litton, 10.032, 81.27
7. Terry McMillen, 10.598, 85.60
8. Todd Paton, 12.003, 72.43.

Nitro Funny Car --

1. Dale Creasy Jr., Chevy Monte Carlo, 5.062, 300.73
2. Bob Gilbertson, Dodge Stratus, 10.028, 100.85
3. John Lawson, Monte Carlo, 10.378, 88.93
4. Andy Kelley, Pontiac Firebird, 11.129, 83.01
5. Terry Haddock, Stratus, 11.699, 89.12
6. Paul Lee, Monte Carlo, 13.167, 55.98
7. Mitch King, Chevy Corvette, 13.376, 73.24.

Pro Modified --

1. Scott Cannon, Pontiac Firebird, 5.997, 237.92
2. Ed Hoover, Chevy Corvette, 6.070, 234.70
3. Kenny Lang, Corvette, 6.081, 233.44
4. Quain Stott, Corvette, 6.182, 234.21
5. Jim Halsey, Chevy Camaro, 6.208, 226.77
6. Pat Stoken, Camaro, 6.214, 226.96
7. Joe Mulligan, Camaro, 6.237, 224.02
8. Mike Castellana, Ford Mustang, 6.245, 226.70
9. Shannon Jenkins, Pontiac GTO, 6.275, 230.41
10. Matt Hagan, Corvette, 6.308, 229.04
11. Chip King, Dodge Daytona, 6.457, 229.90
12. Harold Martin, Pontiac Grand Am, 6.619, 217.56
13. Burton Auxier, Corvette, 6.657, 165.70
14. Mark Nielsen, Camaro, 6.748, 224.55
15. Carl Spiering, Camaro, 6.920, 151.39
16. Raymond Commisso, Camaro, 8.198, 118.98.


Alcohol Funny Car --

1. Mark Thomas, Chevy Monte Carlo, 5.838, 241.76
2. Larry Dobbs, Chevy Corvette, 5.841, 242.41
3. Terry Munroe, Monte Carlo, 5.904, 233.52
4. Rob Atchison, Monte Carlo, 5.917, 243.37
5. Paul Noakes, Ford Mustang, 5.924, 241.45
6. Scott Wildgust, Monte Carlo, 6.016, 239.44
7. Trevor Lebsack, Mustang, 6.119, 227.38
8. Tim Stevens, Dodge Stratus, 6.197, 214.25.

Pro Stock --

1. Brian Gahm, Ford Mustang, 6.299, 220.66
2. Steve Spiess, Chevy Cobalt, 6.346, 218.65
3. Robert Patrick, Shelby Cobra, 6.352, 218.27
4. Frank Gugliotta, Cobalt, 6.355, 217.91
5. John Montecalvo, Cobalt, 6.358, 218.37
6. Pete Berner, Pontiac GTO, 6.363, 219.22
7. Rob Mansfield, GTO, 6.367, 218.19
8. Elijah Morton, Ford ZX2, 6.412, 218.44
9. Rickie Smith, Cobalt, 6.414, 217.14
10. Dean Goforth, GTO, 6.496, 213.77
11. Ron Miller, Chevy Cavalier, 6.541, 212.56
12. Cary Goforth, Cobalt, 7.652, 130.96
13. Dan Sweeney, GTO, 7.666, 127.75
14. Anthony Paone, GTO, 11.454, 97.89
15. Larry O'Brien, Dodge Stratus, 11.847, 104.49
16. John Nobile, Mustang, 15.338, 86.03.
---