NEWS
Jack Wyatt Chases Funny Car Title To Tulsa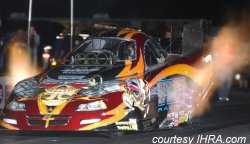 Knoll-Gas Nitro Jam™ Drag Racing Series hosts inaugural event in Tulsa on May 25 – 27

NORWALK, Ohio (May 18, 2007) – For funny car veteran Jack Wyatt, of Corydon, Iowa, his third consecutive Rockingham IHRA national event victory at the recent Spring Nationals is an accomplishment to be proud of.

"But it's a long way to October," said Wyatt, referencing the final race of the season October 19 – 21. "Rockingham was a fabulous experience. The fan response to our decision to display the Virginia Tech logo on the car and dedicate the race to all the victims of the tragedy was just overwhelming."

Wyatt's Dodge Stratus funny car displayed the Virginia Tech insignia prominently on both door panels for the race weekend.

"We were honored to be able to offer this small tribute, and it made the win even more special," he added.

Along with the great Rockingham fans, Wyatt shared his Spring Nationals victory with supporters Suburban Machine, Brian Olson Paint & Body and Tom Stephens Racing, his crew, and those "volunteers" whose efforts contributed much to the win.

"We were small in number but big in heart," said Wyatt, whose path past opponents Paul Lee, Bob Gilbertson and, in the final, Jon Capps, was not without its challenges. "It was a thrash all day, but when it's your day, it's your day. Now we've got to focus on what lies ahead: Tulsa and the season beyond are what's important. We're really just getting started. In spite of our good fortune with win lights lately, the car hasn't really run well yet. A test session or two would be great, it's just not in the budget. So, we have to use event qualifying to test new stuff and sometimes that can bite you."

In just days, Wyatt; the team owner, driver, crew chief, lead mechanic, tuner and truck driver, will load up and point the rig toward Tulsa and the third round of the Knoll-Gas Nitro Jam Drag Racing Series, the Skull Shine Sooner Nationals, May 25-27. Wyatt hopes that in addition to his recent victory, the experience of the first two events has provided a base line for the car set-up that will deliver the performance and consistency necessary to go rounds, earn points and win races.

The Knoll-Gas Nitro Jam™ Drag Racing Series will host its inaugural event in Tulsa, Okla., May 25 – 27. The event, the Skull Shine Sooner Nationals presented by Wolverine and Academy Sports + Outdoors, marks the first national event drag race to be hosted at Tulsa Raceway Park in the modern era.

Buy Tickets through Carson Attractions, www.carsonattractions.com or (918) 584-2000, or visit http://www.ihra.com/results/2007/nitrojam.html.

For more information on the Skull Shine Sooner Nationals presented by Wolverine and Academy Sports + Outdoors, please visit www.ihra.com or www.tulsaracewaypark.com.
---