NEWS
ETHANOL-SPONSORED MARK THOMAS ENTERS TULSA NITRO JAM IN CHAMPIONSHIP FORM
Ohio Farmer Promotes Alternative Fuels at Drag Racing Event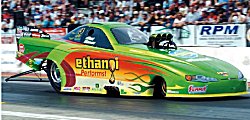 NORWALK, Ohio (May 11, 2007) – Alcohol Funny Car driver Mark Thomas divides his time between his two passions: drag racing and farming.

Growing up on the family farm located just outside Canton, Ohio, Thomas, 48, has grown it into one of the largest in the state. His success on the track speaks for itself: 6 world championships and 27 career wins, the most in the history of the class.

He's found a unique way to combine his two passions. Spending his weekdays on the farm and weekends at the track, Thomas uses his race car as a 250 mph billboard promoting the ethanol industry, a sponsorship that began with the Ohio Corn Growers Association nearly 20 years ago.

Thomas, the defending Alcohol Funny Car world champion, will be competing May 25 – 27 at Tulsa Raceway Park during the upcoming Knoll-Gas Nitro Jam™ Drag Racing Series event, the Skull Shine Sooner Nationals presented by Wolverine and Academy Sports + Outdoors. The race marks the first national event drag race to be hosted at Tulsa Raceway Park in the modern era. Thomas finished runner-up to Jimmy Rector at a national event in Tulsa in 1996. (Buy Tickets: http://www.ihra.com/results/2007/nitrojam.html).

"I love that area of the country," said Thomas. "Tulsa is a neat place to go, a neat place to race. The fans are great. I raced there before and really enjoyed the place. I look forward to going back there."



--Advertisement--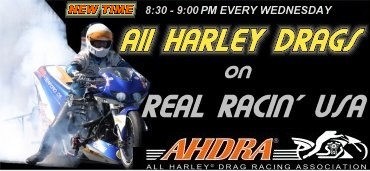 Despite sitting second in the current point standings, behind recent standout Terry Munroe, Thomas is in fine position to be in the hunt by the final race of the season, October 19-21 in Rockingham, N.C. The odds always seem to be with him. His racing career spans three decades. He won his first world championship in 1990.

"Both Terry (Munroe) and I have been in both of the finals this year. We each have a win and a runner-up," said Thomas. "We are finally hitting our stride and figuring this hot rod out. We had some issues with it last year not being as consistently fast as we wanted it to be. But all of a sudden we found some new things and we are making it go fast. And when it's consistent it means you can keep working on making it faster."

In addition to racing and farming, Thomas spends a lot of time promoting alternative fuels. He's made appearances on Capitol Hill and various corporate speaking engagements, displaying the ethanol image painted on the side of his car. Thomas believes in the ethanol industry and proudly campaigns its message, along with supporting various corn growers associations.

"Nobody likes the turmoil in the Middle East, and with ethanol, we can support the Midwest, not the Middle East. We can keep the money in our country," added Thomas.

For more information on the Skull Shine Sooner Nationals presented by Wolverine and Academy Sports + Outdoors, please visit www.ihra.com or www.tulsaracewaypark.com. Media requests can be sent to Travis Reynolds at (419) 706-8631 or travisreynolds@livenation.com.


---