NEWS
Coolbeth Aiming To Stop Mees
COOLBETH AIMING TO STOP MEES FROM DEFENDING
2006 VICTORY AT SALUDA
Screamin' Eagle Wrecking Crew Riders Return to Virginia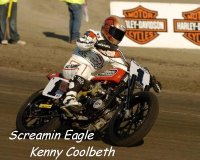 MILWAUKEE (July 11, 2007) – Kenny Coolbeth is the defending AMA Flat Track Twins champion. He rode his factory-sponsored Screamin' Eagle Harley-Davidson to three wins in 2006 en route to his first Twins championship.

He finished in sixth place at last year's event at Virginia Motor Speedway in Saluda, Va. – one of his worst finishes of the season.

Jared Mees has already won three events this season. The rider of the Blue Springs/Screamin' Eagle Harley-Davidson is also the current points leader. Mees also is the defending winner at Virginia Motor Speedway.

What does it all mean for the fans of Saturday's event? Great racing.

Coolbeth and Mees are two of the 2007 Screamin' Eagle Wrecking Crew riders and between them, have won every race so far this season. Add Bryan Smith (Pat Moroney's Harley-Davidson) and Joe Kopp (Team Latus Harley-Davidson) and you have four of the most competitive riders on the tour – and they are all battling for the same thing.

"The track is great and it's just a cool place to race," Coolbeth said. "I'm going there with a goal of winning. We struggled there last year and hopefully we can learn from that. Jared is riding well right now and we're going to a race track that he won at last year. We have to beat him and if we can't do that, we have to be the guy right behind him."

Mees is quick to admit that he's not even taking last year's results into consideration. He's done that once before and that didn't work out very well.

"I can't even think anything of that win because that was last year and that's history," Mees, 21, said. "I won the race at Lima once and the next year I thought I would automatically do OK because of the win the previous year. I got my butt kicked. So now I don't think twice about anything that's in the past.

"I know that while this Blue Springs team is putting up a good streak of wins right now, the competition is so tough that it can end any day now. There are a lot of great racers out there and they are gunning for me and looking to win and they are going to do everything in their power to get that top spot on the podium."

Coolbeth said he's just become more motivated by Mees' recent success to train and prepare even more for each race.

"To see him do as well as he has done just makes me want to work harder," Coolbeth said. "When I go out there and line up next to him, I have to believe that I can beat him. Right now this sport is so competitive and there are a handful of guys that can win every weekend. It's tough to get the win but that's what our team is working toward."

Mees now leads Coolbeth by 13 points, with Smith 27 points behind in third place. He has six career wins going into Saturday's event. But he won't even think about that.

"We're going to a great facility that has great fans in the stands," Mees said. "They were really excited about the race last year and I'm looking forward to the same, if not better, crowd returning this year. It just makes it that much more fun.

"The track can have multiple lines and it can be really quick. That's all I am focusing on. I'm looking forward to going back and there and riding a great race."


AMA Twins Top 10 Point Standings
(Following 4 of 13 events. Number of wins in parenthesis)

1. Jared Mees, Blue Springs H-D/ Screamin' Eagle H-D (3)
2. Kenny Coolbeth, Screamin' Eagle Harley-Davidson (1) 72
3. Bryan Smith, Pat Moroney's/Screamin' Eagle Harley-Davidson 58
4. Jake Johnson, Suzuki
5. Chris Carr, Quality Pre-Owned Ford Harley-Davidson
6. Glen Schnabel, American Suzuki
7. Shaun Russell, Bartels' Harley-Davidson
8. Johnny Murphree, Coziahr Harley-Davidson
9. Joe Kopp, Team Latus/Screamin' Eagle Harley-Davidson 31
10. Paul Lynch, Artic Circle Harley-Davidson

In addition to the direct team sponsorship, Harley-Davidson will also provide support through professional flat track contingency and the Rider Support Verification Program (RSVP). Under the Screamin' Eagle banner the support will total more than $140,000 throughout the 2007 season. This includes a contingency program for qualified Harley-Davidson XR750 riders on the AMA Flat Track series.

Screamin' Eagle Performance Parts are inspired by and built in the spirit of the raw adrenaline and power of motorcycle racing. Screamin' Eagle Pro parts are specifically designed for race-use applications, while Screamin' Eagle parts offer street-use performance options for the Harley-Davidson motorcycle owner. Visit www.harley-davidson.com for more information.

The Screamin' Eagle Flat Track team is sponsored by Matco Tools.

---