Team Release


The Desert Dawgs (Greg Krenik, Steve Allstaedt & Karen Raffa) are getting ready to race for the 2008 All Harley Drag Racing Association's National Championship in both Pro Stock and Pro Modified.

In the Dawg's first full season (2007) in the Pro Classes they had SO much fun, plus they finished the year #2 in Both Classes, that they want to go for the #1 Plate in 2008!

Meanwhile, the off-season has been a rebuilding time for Greg. Not only did he turn 50 years old, he also had both elbows operated on (an old windsurfing injury) and is getting himself in shape to hold onto the bikes without over doing his rehab.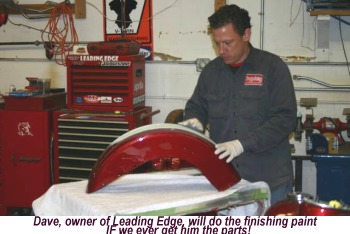 The rebuilding of the bikes has been limited to a refreshing of the cranks, heads and transmissions because of a loss of 2/3 of their cash sponsors. With the budget constraints, they are going to try for more speed by designing a more aerodynamic look for both bikes this season.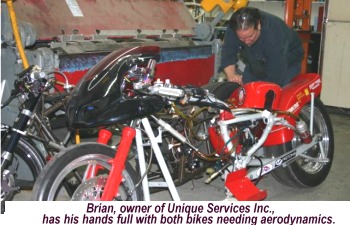 This season they would like to welcome back their sponsors: Thunderbird Harley-Davidson, SA Racing Inc., Unique Services Inc., Leading Edge � The Motorcycle Paint Coating, OUTLAW Racing Fuels, CP Pistons, Mickey Thompson Tires, Lyndall Racing Brakes and Bandit Machine Works. And welcome their NEW sponsors that are joining them in 2008: S&S Cycle, Regina Chain and Boot Guard.

The 2008 season starts in Gainesville, FL for the "Screamin' Eagle Performance Parts Bike Week Nationals" Feb 29 � Mar 2. The Dawgs will leave to Steve Allstaedt's SA Racing shop in Asheville, NC. There, they will install the motors in both bikes, and head to the track to fire them up and start the 2008 Chase for the Championship.

The Desert Dawgs would like to THANK their ever important sponsors for making this all happen.

Meet their Sponsors and their products:
Thunderbird Harley-Davidson: www.thunderbirdhd.com
SA Racing Inc.: 828-674-6225 Steve Allstaedt
Unique Services Inc.: www.uniquesvcs.com
Leading Edge, The Motorcycle Paint Pros: www.leadingedgecustoms.com
Custom Coating: 505-626-2605 Erin McGonagle
Outlaw Race Fuels: 775-690-3488 Jim & Bummer MacMonagle
CP Pistons: www.cppistons.com
Mickey Thompson Tires: www.mickeythompsontires.com
Lyndall Race Brakes: www.lyndallracingbrakes.com
Bandit Machine Works: www.banditmachineworks.com
Regina Chain USA: www.reginausa.com
Boot Guard: 866-547-2668
PLUS a Big Thanks to all the AHDRA Contingency Sponsors!

Upcoming Schedule:
Feb 29 - March 2, Screamin' Eagle Performance Parts Bike Gainesville, FL

March 15 & 16, The Super Bike Show at the New Mexico Fairgrounds