Team Release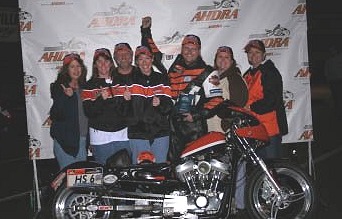 Staunton, VA: Douglass Racing, a family oriented Harley Davidson Drag Bike Team is pleased to announce their 2008 AHDRA Race Schedule. We at Douglass Racing are anticipating another great year in 2008 and hope to see you at the races.

As the family team, father, Gary Douglass, 58, manipulates his vacation time as Service Manager at the Staunton Coca Cola plant, son, Charley Douglass, 38, is doing the same as Maintenance Technician at McKee Foods (Little Debbie snack cakes). Also, Jody, daughter/ sister of the team joins them. Jody adds, "We all enjoy our time together at the races. It means so much when you have your family by your side, especially when you are doing something you enjoy."

Gary Douglass has been racing for 7 seasons in the Syn3 ET, Pingel Super Eliminator and S & S Super Sport series and aspires to win a class championship in '08 on his 1990 HD Sportster with a 2001 Buell motor.

Charley Douglass started racing his 1992 Harley-Davidson Sportster in 2000 in the AHDRA Syn3 ET class. He advanced to DragMasters Hot Street in 2003 and continues to run in that class. Surprises are in store for 2008......stay tuned for more info!

Charley will carry the #1 plate in the National DragMasters Hot Street class by winning the Championship in 2007. He also finished 4th in S & S Super Sport. And not only are their racing credentials outstanding but in '07 Douglass Racing placed 2nd in Best Appearing Sportsman team.

2008 Schedule:
Gainesville Raceway - Gainesville, FL --- Feb. 29th, March 1 - 2
Speedworld Dragstrip - Wittman, AZ --- March 29 - 30
Gateway International Raceway - Madison, IL --- April 19 - 20
Texas Motorplex - Ennis, TX --- May 3 - 4
Atlanta Dragway - Commerce, GA --- May 24 - 25
Summit Motorsports Park - Norwalk, OH --- June 14 - 15
Cecil County Dragway - Rising Sun, MD --- June 28 - 29
Bristol Dragway - Bristol, TN --- August 9 -10
Virginia Motorsports Park - Dinwiddie, VA --- September 20 - 21
Rockingham Dragway - Rockingham, NC --- October 10 - 12 (Championship Finals)

Douglass Racing is supported by Shenandoah Harley Davidson www.shenandoahhd.com ---Energy One www.energyone.com --- and Muggs (more to come on this).